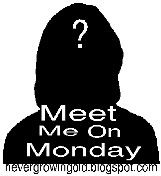 Questions:
1. What is your favorite dessert? My Aunt Cherry makes a chocolate cake with chocolate icing. Its just your basic cake, but it's my favorite. It just may be because its made with love!
2. What do you wear to bed? One of C's t-shirts and cotton shorts
3. Do you get regular manicures/pedicures? No, I have never had a pedicure, but I plan to soon!!
4. Did you play any sports in high school? Yes, I played volleyball and softball. Believe me, we did not wear those teensy little shorts back then!!
5. Do you have an iPod? I have an iPod shuffle that belonged to one of my girls before they received a better one. I still prefer the shuffle!